I'm less sick than I was before, but I am also less than I was before….
What?
First off, the test results from my blood test and skin samples were inconclusive. So..of course…more tests. A couple of people have been asking me if they tested for Petechiae so I asked my doctor when I went in for my "FU" appointment and she was like "Of course you have Petechiae. You have a lot of diseases"
And shrugged and went back to her clipboard and listed all the things that I was doing wrong to my body. 
This is news to me.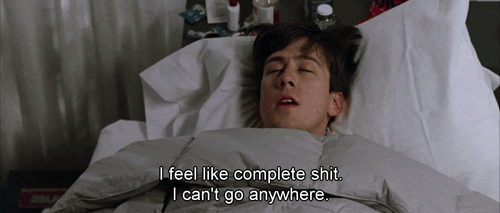 Anyway, shortly after, I started getting cramps and feeling super nauseous, so naturally I assume that I'm either preggers or dying. It started off as just like how my period starts – cramps, a little weak and cravings for sweet things. But then it went into "oh shit what is happening to me territory" when I started getting really nauseous and a little delirious. No food or drink would stay down, my cramps were edging into "just kill me now" territory and my bones felt like they were splintering inside of me.
Long story short, I had my first case of stomach flu and I lose 4 pounds.
yay! (0/10 do not recommend)